The Winfield MW (Micro Weapon, NOT Modern Warfare) is a machine pistol that was developed and manufactured by Winfield Heavy Industries. It was designed specifically as a tank crew weapon in mind, similar to the Saab Bofors CBJ-MS or the Minebea PM9, and similar to the CBJ-MS, can become a personal defense weapon when chambered for a new cartridge; the 5.2x29mm cartridge, a PDW round sized in between the FN and H&K high-velocity rounds.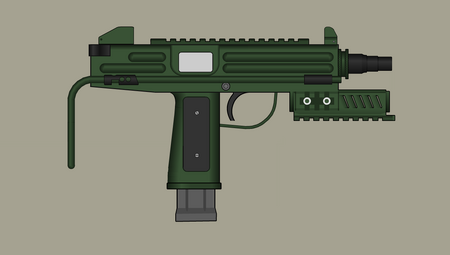 Facts:
Barrel is 7.8 inches long.
Chambered for various cartridges, including 9x19mm Parabellum, .380 ACP, .45 ACP, and the new 5.2x29mm high-velocity cartridge, and is fed via 20- or 30-round box magazines.
Designed in 2007 , produced since 2011.
Effective range: 100 meters
Rate of fire: 975 RPM
Weighs 5.8 pounds.
Community content is available under
CC-BY-SA
unless otherwise noted.