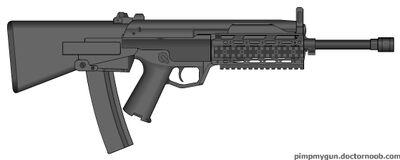 Description
The Vurkov Kavarov Deschny Compact (KD-C) rifle is a fully automatic 5.56x45 mm cartridge weapon. It features a bullpup design and a modular rail system.
General Info
Weight: 9.4 lbs
Length: 19.5 in
Berrel Length: 12 in
Cartridge: 5.56x45
Operation: fully automatic
Rate of Fire: 550-700 rpm
Muzzle Velocity: 900-1100 m/s
Effective Range: 250 m
Feed System: 25 round box magazine
Sights: flip up sights and RIS for mounting other sights
Community content is available under
CC-BY-SA
unless otherwise noted.