(Work in progress)
The Valkyrie Industries Modular Assault Shotgun, or MAS, is an automatic mag-fed shotgun produced by Valkyrie Industries.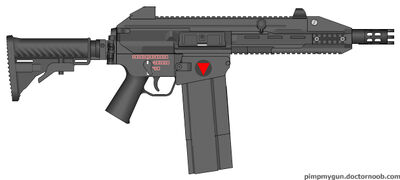 History
The Modular Assault Shotgun was made due to the growing interest in fully automatic shotguns for military and police use. The main contender against the MAS is the Atchinson Assault 12, or AA-12, along with the Daewoo USAS-12 and the AKDAL MKA 1919.
Development for the MAS began in 2010. The design and firing system was first based on the direct imprigment AR-15, but then the design team switched in 2012 to the more reliable G36/M416 gas piston system. The mag well was designed to accomodate MAS, AKDAL MKA 1919 and USAS-12 magazines. This feature was key for the MAS being worldwide accepted as an efficient weapon system. The MAS can also accept custom drum mags, increasing the mag capacity to 24.
First firing tests were made in late 2012 and results were very promising. In (location withheld), the US army had a contest between the MAS and the AA-12. The MAS had more feeding faliures than the AA-12, but was equally reliable when covered in mud and dust. The military was more interested in the MAS due to it being 500$ cheaper per unit. However the US army stated that they will continue trials with more contenders.
Specifications
Firing modes: Safe, Semi, 3 round burst and Full Auto.
Chambering/Calibre: 12 gauge, 2.75 inch and 3 inch shells
Magazines: 6 and 12 round box, 25 round custom drum mag, also accepts MKA 1919 and USAS-12 mags.
Barrel length: 250mm/10 inches
Overall length: 750mm/0.75m
Weight: 3.2 kg with a fully loaded 12 round box mag
Mostly made out of high tensile plastic composites, other parts are out of carbon fibre and titanium alloys
Can be field stripped in under a minute
Accepts all AR-15 compatible buttstocks as well as the ACR folding stock and a custom skeleton stock.
Features multiple picatinny rails
Can fire semi auto underwater
Community content is available under
CC-BY-SA
unless otherwise noted.