VAC LEGACY
Presenting the VAC StOMP-90 (Surface-to-Orbit-Misslie-Pod-90mm)
The StOMP-90 was designed to either shoot down orbital threats or normal anti-air roles. Manufactured in 2014 the StOMP is an accurate hard hitting missile launcher.
It is a shoulder fired, single-man operated, soft launch anti-air launcher.
The Optic. The targeting system is the Advanced Targeting Lattice AnTi-air Laser painter or ATLATL.
In the first firing phase which is about 5 seconds the system paints the target. Then the second phase is when the system gives the firing solution and finds the range which is about 5 seconds long.
Then is the third phase the system gives the go, the safety lock unlocks you can tell by a click and the weapon is cleared to fire. The safety lock was designed to increase the users safety when being before firing.
The firing phase is when the missile is launched with a soft-launch procedure. Then the missile finds its way to the target and stays on target without keeping the optic on target. The backblast radius is about 4-5 meters.
SPECIFICATIONS
-Diameter: 90mm
-Weight: 35.5 lbs (16.10 kg.)
-Range: 4.7 miles(7.56 km.)
-Crew: 1
THE MISSLE
The LRAM or Long Range Anti-air Missile. Explosive equivalent of a TOW missile.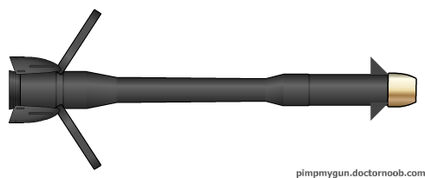 -Weight: 23.5 lbs (10.65 kg)
-Diameter: 90mm
-Ordinance: 7.5 lbs (3.49 kg)
-Notice 50m before the missle hits the fins pop out to stabilize it's trajectory.
THE ATLATL TARGETING SYSTEM IS COPYRIGHTED AND ORIGINAL.
Community content is available under
CC-BY-SA
unless otherwise noted.