Stonefish International Arms is a weapons and defence systems manufacturer pioneering weapons systems at the height of technology for the 21st century.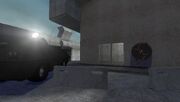 History
Stonefish was originally founded as an advanced electronics and transportation developer, but as the Pan-Asian War began to sweep the world, they refocused on weapons and defencive systems to protect the countries to which they catered, mainly the European Union and United States of America. Rienforced by the company's new Corporate Enforcement Department, essentially acting as the armed hand of the company, they performed precise and successful raids out of the United Democratic Alliance's reach. Stonefish is a major competetor to Magnum Weapons Corporation and has on numerous occations competed with the corporation for various military contracts.
Specilizations
Stonefish specializes in high-tech weaponry and vehicle systems. Many of their contracts are based off of liscenses of other corporations such as Ferdinand Colt and Heckler & Koch, therefore joint projects between stonefish and these companies have been very succesful in major contracts for standard issue equipment.
NOTE:
Stonefish International Arms is a fictional company and should not be associated with any real liscenses or trademark agreements related to any and all Stonefish International Arms entries.
Community content is available under
CC-BY-SA
unless otherwise noted.