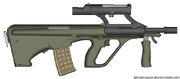 Utilizing elements from the Cold War era and Modern Day
Steyr AUG
, the Steyr Kommandeir PG-6 is an urban, arctic, and military CQB personnel mulit-purpose weapon.
Creation & Design
Design in 1988 by Steyr engineer Hans Jhorgen, then an intern, the Kommandeir PG-6 was created to aid the Austrian military in rough urban missions thorugh favels, cities, and other urban locations. The idea was brought to Steyr firearms in 1989 by Jhorgen when he filed an application for a job there. Immediately, the company loved it. Production began right away.
Manufacturing
Manufacturing began in early 1990 right before the empire of Manuel Noriega fell to American military and SEAL teams. It was produced in Hamburg, Germany for pricing issues, and costed Steyr $1.3 Million dollars. Over 1,900 units were shipped to American, Austrian, German, French, and Indochinese forces around the globe. For a short time, it was the most widely used firearms in the world.
Special Features
The Kommandeir PG-6 has one of many unique features. For one, it has a barrel almost half the length of the average AUG, giving it an advantage to close-quarters. Also featured for medium to long range firefights, a Swarovski scope. Perhaps the most unique part, however, was the secondary firearms attached to the gun itself. Notice in the picture above, that the Swarovski Scope has no secondary iron-sights, but a Beretta M9 pistol slide. Also, near the end of the weapons stock, a chrome-gray magazine, horizontally injected, meant as an ammunition cpacitator for the M9AUG (secondary firearm attached to weapon). Lastly, near the vertical foregrip, a trigger, meant for actually firing the M9AUG. Many countries found this to be an advantage, and it was. What could possibly be better than a fully-automatic machine gun, featuring a pistol for close-quarter operations? Nevertheless, the Kommandeir was denounced obsolete in 1996 by the UN for future use. No reason has been specified at the time.
Community content is available under
CC-BY-SA
unless otherwise noted.