In 2013 Assassin Weapon Systems International went bankrupt. Chandler Gordon rejoined Korinth Weapon Systems International and they formed a Subsidiary Company called Smith And Gordon Firearms. Based in the United States they accept contracts from both Public and Private interests alike.

Weapons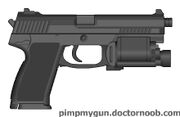 The S&G 14 is a license built copy of the M14 Available to both civilian and military groups.

The S&G .45 is a .45 ACP pistol designed for military and civilians alike.






The S&G 12 LR (Long Rifle) is a 5.56mm rifle designed for civilians snd Law Enforcement.
The S&G 12 is a weapon designed for law enforcement for use as a carbine.
The S&G 12 is a series of weapons desgined for military, law enforcement and civilians.
The S&G 15 is a bolt action .338 Lapua rifle.
Community content is available under
CC-BY-SA
unless otherwise noted.