Sharpshooter LSWs
For basic information see Sharpshooter LSW Defender
Sharpshooter Offender MK1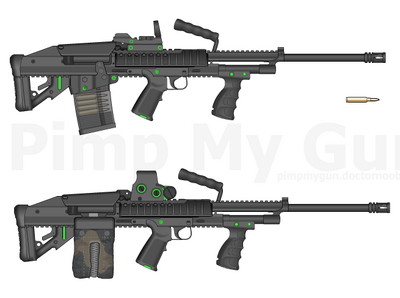 Cartridge: 7.62x65mm
Range: 700m Length: 780mm
Barrel legth: 540mm
Weight: 4.5kg with 20 round magazine
Clip size: 20R/100R Firing mode: semi auto, fully auto (F/S), bolt action if neccesary
Fire rate: F-800 rpm/S-360rpm
The early version of Offender. Based on the Defender MK1. The rear grip is removed and a experimental sorage stock is added to the stock. The barrel is still quick-changable. bipod is removed and a fore grip is added. However, this version is not very successful. For the weight is not greatly reduced and the center of mass is too backward. There is no change on the bolt
Sharpshooter Offender MK2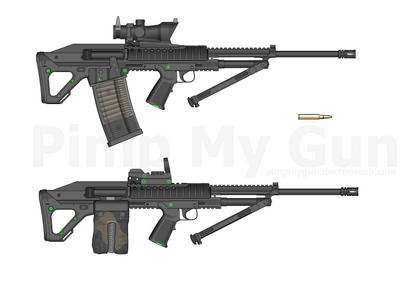 Cartridge: 7.62x65mm
Range: 800m
Length: 800mm
Barrel legth: 560mm
Weight: 3.4kg with 30 round magazine
Clip size: 30R/100R
Firing mode: semi auto, fully auto
Fire rate: 650-700rpm The second edition of the Offender is published recently.The rear stock is compeletely replaced by a polymer 45-degreed grip. The whole bolt case is replaced with a much lighter alloy and the bolt system is simplified. The barrel is no longer changable and a light bipod is added. The mass center is relocated and balanced well with the rear grip. It's high-power, outstanding accuracy, decent firerate and weight make it a ideal weapon for attacking and supporting. It is also much cheaper to make compare to the MK1. 
Designed by Richard X
Community content is available under
CC-BY-SA
unless otherwise noted.