Sharpshooter Light Supporting weapon
Sharpshooter LSW is a light auto weapon that has slightly more power and accuracy than the standard LSW or LMG. 
It has a quick-change barrel and high fire -power which are similar to a machinegun, but superior in the weight and mobility. It also has a weight and length similar to a assault rifle, but better in the power and accuracy.
The gun is chambered in .308 magnum which is much more powerful than the standard 7.62mm NATO. (3500J for NATO and 4700J for Mag)
The creative part of SLSW is its supporting system. Four point supporting system made this gun incredibly stable when aiming and shooting. The weight of centernis also close to the butt makes it very comfortable.
The gun can be easily disassembled and cleaned. Howevery, it is extremely reliable.
Defender MK1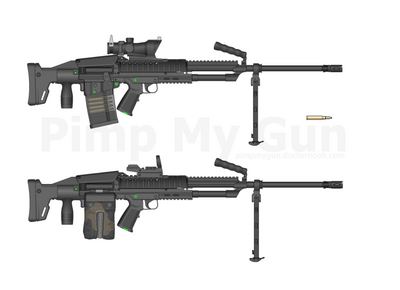 Cartridge: 7.62x65mm
Range: 1000m
Length: 900mm
Barrel legth: 650mm
Weight: 5kg with 20 round magazine
Clip size: 20R/100R
Firing mode: semi auto, fully auto (F/S), 
Fire rate: F-700 rpm/S-300rpm
Early version of the Defender. Highly advanced but not the final version.
Defender MK2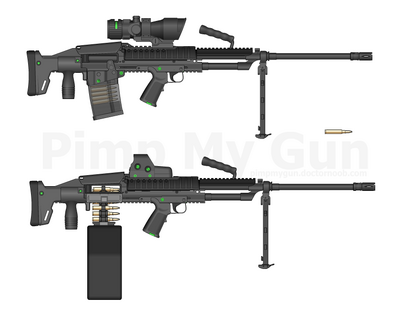 Cartridge: 7.62x65mm
Range: 1200m
Length: 960mm
Barrel legth: 720mm
Weight: 5.2kg with 20 round magazine
Clip size: 20R/250R
Firing mode: semi auto, fully auto (F/S), blot action if neccesary
Fire rate: F-800 rpm/S-360rpm
SLSW is designed with the concept of Suppressive firepower. It is reliable, high-powered and futuristic. Its high firepower, accuracy , stability, high capacity and decent fire rate make it a perfect weapon for any kind of situation and environment, especially in defensive operation.
The barrel can be quickly changed and a 120 round mag can be used to make it a role of light machinegun. A light -weighted 20 round magazine and a 12x scope make it a perfect long-range sniper rifle. A extra-large 250 round chan box and a ecotech holographic sight make it a perfect heavy machinegun. Bipod is available in all visions.
Designed by Richard.X
Community content is available under
CC-BY-SA
unless otherwise noted.