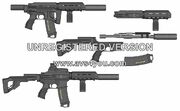 The Rose Armaments PDW-1 is a compact assault rifle that is optimized for usage in tight environments. It is a variant of the AR-15 and is specialized for use in situations where operators would have difficulties with using a regular sized carbine but require more fire power than a hand gun is capable of.
Design Specifications
One feature that is not typical of M4 type rifles is a folding stock. Weapons of this family have a recoil spring which requires a fixed buffer tube in the stock to operate. However, in the PDW-1 this problem has been solved by having a stock that is offset from the buffer tube and can fold without affecting the buffer tube.
As well as a folding, adustable stock, the PDW-1 features a compact seven inch barrel which is threaded for the installation of a muzzle brake or suppressor. The rifle incorporates a gas piston operating system which keeps the weapon cleaner and cooler, all while increasing reliability and lessening the chances of jamming.
The Magpul patterned handguard allows the operator to attach Magpul grips as well as railed segments for further customization. The optic rail on the upper reciever allows for a variety of sights and scopes to be attached.