The Rickard Model 150 is a pump-action shotgun that is manufactured by Rickard Firearms & Defense. It is RF&D's first shotgun, and would become one of Rickard's most popular products, with more than 4 million shotguns sold. A semi-automatic sibling to the Model 150, the Model 175, was released in 1970, and in 1998, a special version of the Model 150, known as the Model 150 Tactical, began to enter production. It competes against the Relby Shotgun, Silverback M39, and the UAT TCS-12.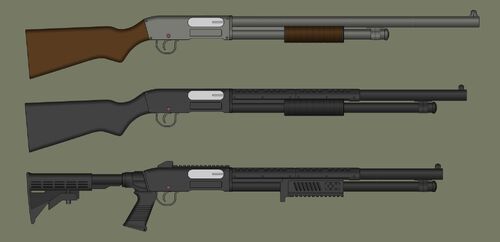 Facts:
Barrel can be 10 to 26 inches long.
Chambered for 12, 16, 20, 28, or 410 bore shells, and is fed via a 3+1 to 8+1 internal tube magazine.
Designed in 1960, produced since 1963.
Effective range is about 50 meters.
Rate of fire: Depends on how fast you pump a shotgun, but normally around 75 to 80 RPM.
Picatinny rails and side shell holders are optional (standard on the Tactical, as well as a pistol grip)
Weighs 6 to 9 pounds.
Users:
Community content is available under
CC-BY-SA
unless otherwise noted.