The RC-70 (Rickard Carbine Model 70) is a carbine rifle that is made by Rickard Firearms & Defense. An AR-15 based rifle, it was specifically designed for counter-terrorism units around the world, and features various improvements over the M4 carbine, such as a short-stroke gas piston system and a larger trigger area. It competes against the Clicker CT212, United Arms Tactical MRP-1A2, and the NS Arms Ramses, and also competed in the 8th cycle of the 1st Perpetual Competition of the PMG Wiki. In 2015, the RX15 was announced as the successor to the RC-70, and later completely replaced it by 2017.
Despite having a rather short production run, the RC-70 proved to be very successful in police sales.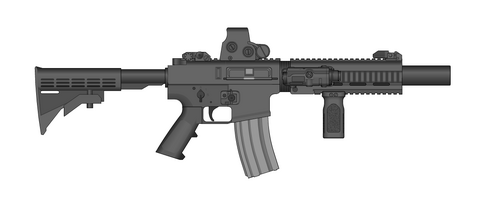 Facts:
Barrel is 13.5 inches long. An integrated suppressor is optional for police units.
Chambered for the 5.56x45mm NATO, and is fed via a 30-round STANAG magazine by default.
Designed in 2004, produced from 2007 to 2017.
Effective range is around 500 meters.
4-position collapsible stock.
Rate of fire is around 850 RPM.
Utilizes a short-stroke gas piston design, similar to the AR-18 or HK416.
Users:
Chroma Security: Adopted in 2005. Formerly the standard assault rifle for Public Security Agents, it has been replaced by the RX15-L.
Kaizen Elite Safety Team: Common weapon.
United States: New York Police Department ESU. This was confirmed during the British Embassy Siege in NYC.
First Major Usage:
In 2013, 6 terrorists that were affiliated with an Eastern European terrorist group known as the Novy Paradak (Belarusian for The New Order) sieged the British embassy in New York City, held all people hostage, and would plant a bomb if any action was taken. After about 4 days, a hostage was killed, and this prompted immediate action by the NYPD's Emergency Service Unit. When they breached into the embassy, the bomb was planted, which left only 12 minutes left until detonation. However, while the terrorists were armed with illegally modified AK-47's, they proved to be jam-prone and rather inaccurate, especially when compared to the RC-70. After 10 minutes, all terrorists were killed, the bomb was defused, and all the hostages were released.