Welcome to the Pimp My Gun Wiki!
Welcome to the Pimp My Gun wiki, an entire wiki dedicated to the popular flash game, Pimp My Gun. Here you can post your custom guns, write about them, or look at other's creations.
What is Pimp My Gun?
Pimp My Gun is an incredibly popular flash game that allows users to customize or create their own weapons using dozens of different parts, pieces, and accessories.
Getting Started
"The journey of a thousand miles begins with the first step"
To get started, first go to Pimp My Gun.com to get started on your awesome creation. Once it's completed, take a picture of it via screenshot and save your creation's code, especially if you wish to go back to it to tweak it later on. Then, return to the wiki and make a page with the title you would like your weapon to be known as. Post your creation's picture(s) on said page and then give a brief to long description of your gun, its name, how it works, how it would be used, etc. If your creation is a customized weapon, then title the page "Customized (Gun's name here), and then in parentheses, your username. Provide a paragraph or two next to the picture. If you plan on creating another customized weapon of the same type, add it to that page.
NOTICE: As of 2020, Adobe Flash player is no longer supported. If you live in a region where Adobe Flash is still supported, then congratulations! You can continue to use Pimp My Gun freely (until the inevitable might happen in the near future). If you live in a region where Adobe Flash player ISN'T supported, then don't panic! Follow these instructions:
Click the blue download button that says "DOWNLOAD (8.59MB)".
There will be a pop-up ad for a download installer or something. Click the X button to close out of that scam.
Once it's done downloading, go to your file explorer.
Find your new files in your explorer and extract them (right click, extract all).
Open your newly extracted files and open up the Adobe Flash player first.
Once you're on Adobe Flash player, open up either the file for 0.6 or 0.7 Pimp My Gun.
Enjoy!
For more information got to this page or ask an admin.
Admins: Daniel Phoenix, UV00, Kyle Layton, ArizonaRanger27, TheGeneralB
Rules: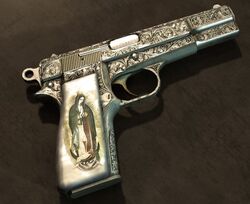 No inappropriate weapon names. You know what we mean. Nothing vulgar, racist, sexist, or offensive.
Only weapons unless under good circumstances. We don't care how well you can make pictures with weapon pieces, if you want to say write your username in gun pieces then you can do it but put it on your user page. As well nothing stupid that would violate the above rule(s). However, we do accept vehicles, if they are well made. Three triangles and two circles ISN'T a vehicle.
No plagiarism under any circumstances whatsoever. If you didn't make the gun then don't post it under your name. Remember plagiarism is a felony and if you are caught (which you will be; we know everything) then you can expect the gun deleted and a permanent ban from the wiki.
No making fun of inexperienced members. Do not discourage new members whatsoever. Instead, if you wish to do something with a new user who needs help, you can give them tips or teach them the ins and outs of Pimp My Gun or weapons in general.
 Also, remember to read our policies on community behavior.
Join our Discord chat!
Yes! We have a Discord server where you can talk to us and just chill out. (P.S. it's where most of us old farts hang around since we have no energy or inspiration to make PMG creations anymore, lel.)
If you'd like to join please be on your best behavior and do not show any discourtesy towards the members. Thank you!
Competitions & Events!