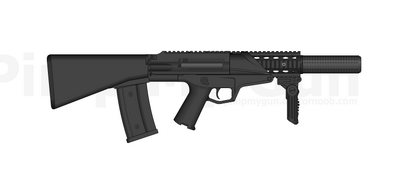 Overview
The SPBCar (Special Purpose Bullpup Carbine), commonly called the "Ghost Carbine" for its extremely quiet report, is a bullpup assault rifle with an integrated silencer. Compact and powerful, it is the perfect tool for counter-terrorists around the world. It uses the Direct Impingement gas system, so as with all automatic weapons from Phoenix Precision Firearms, it offers top-notch performance. Its reciever is that of the PPF Thunder, redesigned for the .236 Phoenix round and moved into the buttstock. Two versions of its round are available: the regular version, and the heavy-load subsonic version.
Statistics
Name : SPBCar 
Weight : 3.3 kg (unloaded), 3.9 kg (loaded)
Length : 26" (66 cm) Barrel Length : 15" (Silencer not incl.)
Magazine Size : 30 rounds (60-rnd drum available)
Caliber : .236 Phoenix inch
Muzzle Velocity : 325 m/s (Subsonic), 970 m/s (Regular)
Optimal Range : 2-100 meters
Effective Range : 400 meters
Rate of Fire : 1100 RPM
Overall
Accuracy : Good
Recoil : Low
Damage : Average
Mobility : Medium
Reload Speed : Fast
Penetration : OK
Community content is available under
CC-BY-SA
unless otherwise noted.