The PPF "Nerve" MABR is a Marksman/Battle Rifle produced by Phoenix Precision Firearms. It was developed to replace the SG 550 as the Swiss service DMR, but failed. TO BE REMADE
Overview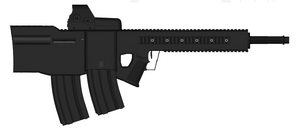 The PPF MABR (Modular Accurized Battle Rifle) is a unique weapon, loaded (for some, even OVERloaded) with features to improve its combat viability. Despite its action being placed dangerously close to the end of the stock, a signature PPF recoil spring still proudly sits inside the stock. A brass deflector fitted over the ejection port directs spent cases downwards, making the gun safe for those who are left-handed without the added complexity of a forward or downward ejecting system. The rifle is available in 3 sizes and 2 calibers: 7.62 NATO and 11mm Silent Phoenix, with a 20", 24" or 30" barrel. Another new feature of the rifle are the 2 mag holders on the sides, which provide the ability to reload quickly. The final feature of this gun is that its body is made almost entirely of carbon fibre. Thus, the shortest version only weighs 3.1 kg - Less than the M16 rifle.
Stats
Weight : 3.1-3.5 kg (unloaded), 4.2-4.6 kg (loaded, no extra mags).
Length : 28" (71 cm), 32" (81.3 cm) or 38" (96.5 cm).
Barrel Length : 20", 24", 30"
Magazine Size : 20 or 32 rounds
Caliber :7.62 NATO, 11mm Silent Phoenix
Muzzle Velocity : 290-310 m/s or 750-100 m/s
Optimal Range : 1.5-800 meters
Effective Range : 1400 meters