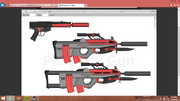 P2000
The P2000 is a tactical SMG used in military combat and used mainly by the Crimson Lance. The SMG includes magazine holder on the stock, extendable stock, and adjustable scope. The pistol is added for extra protection if ammo is run out.
ZX345
The ZX series of pistols is a series of well made, quality pistols. The 345 is a powerful yet light and versatile pistol with 12 round magazines. It can shoot burst fire, rapid fire, or semi-automatic. The ZX series is used by many, including the Crimson Lance, and the Bloodshots. The color is custom. This ZX345 is a custom red and black color layout .
Community content is available under
CC-BY-SA
unless otherwise noted.