The PDW-16 is a personal defence weapon being developed by NS Arms Corporation. It is the very first purpose-built PDW to be designed from the ground up. It is designed mainly for security organisations, law enforcement agencies, and second-line soldiers such as medical corps, military police, and artillery personnel.
History
The commencement of the new phase of the competition brought with it a new criteria: design a powerful, yet compact weapon. The experience in creating their first SMG/PDW hybrid fuelled their inspiration for this project.
Initially, both Dr. Nowak and Mr. Syahir lead the initial design, which began in early April 2016, some time before the competition commenced. However, Mr. Syahir fell ill, thus handing the project solely to Dr. Nowak, in which he led a design team and made significant changes to the original design. Weeks of tweaking and redesigning and the production model was made ready in early May.
In early August 2016, NS Arms Corporation agreed to supply a number of PDW-16 to Securacom, a security company based in the United States. Another order was soon fulfilled for the Kaizen Elite Safety Team of Japan, which began receiving a number of PDW-16 in mid-August.
Design
The PDW-16's basic design is influenced by the Baikal Drozd MP661K CO2 pistol. It retains the feeding system as its predecessor; magazine fed through the pistol grip. It operates via the straight blowback action, firing from a closed bolt. It can be fitted with a collapsible stock or without the stock. All components are made from lightweight, impact-resistant material.
Ammunition
The ammunition fired from the PDW-16 is the .256 NS-PDW (6.5x23mm). It is derived from the .256 NS fired by the SG-16. Performance is roughly equivalent to the .45 ACP but is slightly inferior compared to the 6.5x25mm CBJ.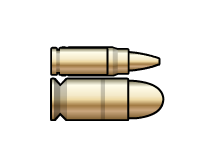 Weapon Specification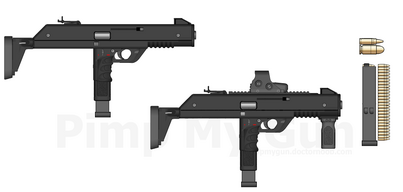 Barrel length: 254 mm (10 in.)
Cartridge: .256 NS-PDW (6.5x23mm)
Operation: Blowback, closed bolt
Muzzle velocity: Around 400 m/s to 450 m/s (1312 ft/s to 1476.4 ft/s)
Effective range: 230 m (755 ft)
Rate of fire: 850 rounds/min
Feed system: 50-round double-stack detachable box magazine
Sights: Fixed front ring sight and rear adjustable post and notch sight
Attachments: Reflex sights, foregrip
User(s): United States (Securacom), Japan (Kaizen Elite Safety Team)