By UV00
The P-015 Cyrkon (Polish for Zirconium) is an upcoming family of pistols produced by NS Arms Corporation. It was designed primarily to serve with military forces and law enforcers. It was designed by one of the armorers of NS Arms Corporation, Mr. Marek Ulan.
Development
Sometime in May 2015, the United States Armed Forces have published an article regarding the need for a replacement for its Beretta M9 pistol, which is catching up to its age and is rapidly lagging behind the current demands of the military. Following the release of the article, the Armed Forces released several requirements and guidelines for participating companies.
Being a first-timer in designing an indigenous pistol, Mr. Ulan drew from several existing handgun designs along the way, most notably the Glock family of handguns and the WIST-94, both in current use with the Polish Armed Forces.
Interestingly, Mr. Ulan designed the initial basic layout of the gun as early as mid-March 2015, way before the article was published. He shared his design with Dr. Nowak and Mr. Syahir. They were both impressed with the layout and the design was cleared for further fine-tuning and completion. The final design was finalised in early June 2015 and a prototype was released and tested soon after. Additionally, a tactical kit was also produced by the team, consisting of 2 different types of suppressors, a flashlight, and a brand new red-dot sight.
The competition ended with the winner being the Modular Combat Assault Pistol (MCAP) Mk. 2, produced by Phoenix Precision Firearms. In a short message posted on their website, Mr. Syahir and Dr. Nowak expressed their amazement and conveyed a message of acknowledgement. "Congratulations PPF! Your design certainly outmatched those of others. We hereby wish you all the best in your future endavours."
Weapon Design
The pistol employs the tried-and-tested short recoil operation, commonplace in most pistol designs today. It is produced in two versions; one version is chambered for the 9x19mm Parabellum and the 9x19mm +P overpressure round, while the other version is chambered in .45 ACP. Mil-spec rails are added on top and to the bottom of the pistol; these are removable to suit specific situations.
Weapon Information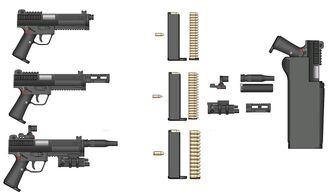 Weight: 720 g (25.4 oz) [P-015 9mm]

                              

726 g (25.6 oz) [P-015 9mm +P]

                          732 g (26 oz) [P-015 .45]
Length: 188 mm (7.4 in.)
Barrel length: 106.7 mm (4.2 in.)
Cartridge: 9x19mm Parabellum/9x19mm +P, .45 ACP, 5.7x28mm (planned)
Operation: Short recoil, semi automatic
Muzzle velocity: 370 m/s (1214 ft/s)
Effective range: 50m (164 ft)
Feed system: Double-stack magazine; 18 rounds (9x19mm Parabellum & 9x19mm +P), 13 rounds (.45 ACP)
Sights: Fixed front hooded sight and rear aperture sight
Attachments: Removable Picatinny rails, suppressor, red-dot sight, flashlight-laser module
User(s): None (currently)
Community content is available under
CC-BY-SA
unless otherwise noted.