The M42 SMG (or sometimes called the M1942) is a submachine gun that was made by the Rickard Armory. The second submachine gun designed by Stanley Rickard (after the M35), the design is loosely based on the Thompson, ans was Rickard's second weapon to be designed in response for a cheaper alternative to the Thompson SMG. When compared to the M35, however, the M42 was short-lived. It was spirtually succeeded by the Spectre SMG.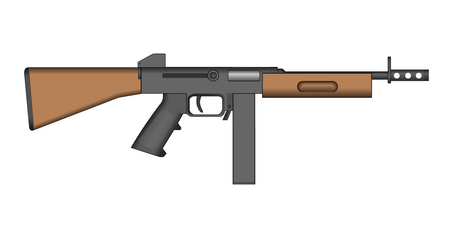 History:
After the success of the earlier M35 submachine gun, Stanley Rickard went deeper into the SMG category and decided to come up with a new weapon that would be even cheaper to manufacture than his previous creation. In 1942, his new design was completed, and named it the M1942 submachine gun. When compared to the earlier M35, which had a unit cost of $30, the M42 only had a single unit cost of $20, and was more ergonomic when compared to the M35. However, when the U.S. military tested the weapon against other weapons, the M42 was found to be not as tamable in terms of recoil and it also had a higher malfunctioning rate when compared to the older M35 and the M42's main rival, the M2 Hyde. Therefore, the M42 was rejected from usage, and Rickard's project was scrapped as he focused more on his M35.
Facts: 
Barrel is 10 inches long.
Chambered for the .45 ACP cartridge, and is fed via a 25-round magazine.
Designed in 1941, produced in 1942.
Effective range is around 200 meters.
Rate of fire is around 700 RPM.
Weighs 5.7 pounds.
Community content is available under
CC-BY-SA
unless otherwise noted.