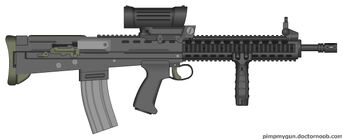 Weapon Name: 
M-50
Type Weapon: Sub Assault Rifle
Country of Origin: USA
Caliber: 5.56x19mm NATO, 5.56x45mm NATO
Mag Capacity: 30-40 Round Magazine
Select Options: Semi Auto, 3 Shot Burst, Full Auto
Suppressor Select Options: Not Suppressed-Suppressed Fire
Introduced In: 2135
Service Length: 2135-Present
Standard Accessories: ACOG Scope, Foregrip, Barrel with Built In Suppressor
History
During the world's First Zombie War, the United States Military was getting slaughtered due to their weapons being too long or heavy to evade oncoming zombie hordes. They needed a smaller compact weapon that could allow the user to move faster and kill their enemies with accuracy and sooner than they thought, a company known as Furey Technologies developed the answer to their prayers. The M-50 was the answer these soldiers were looking for and when they started to become manufactured, no other soldier would engage zombies without the use of the M-50 Sub Assault Rifle.
Community content is available under
CC-BY-SA
unless otherwise noted.