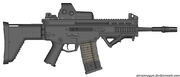 L.A.T Also known as light arms tech is a British arms manufacturer. Its main goal in weapon development is to make more compact, lighter but more reliable firearms. Due to this aim the company produces a large number of bullpup weapons and compact AR's.
Weaponry
L.A.T Uses a simple naming system for ease of recognition between different weapons.
BP=Bullpup AR=Assault Rifle BR=Battle Rifle SMG=Sub Machine Gun C=Compact &nbsp T=Tactical
S= Short U=Urban SR=Sniper Rifle

L.A.T CUAR-1/s.
L.A.T CUAR-2.
L.A.T BPSMG-1.
L.A.T BPSMG-2.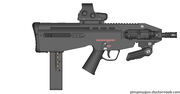 L.A.T BPSMG-3.
L.A.T BPAR-1
L.A.T BPBR-1
L.A.T

CSR-1
Community content is available under
CC-BY-SA
unless otherwise noted.