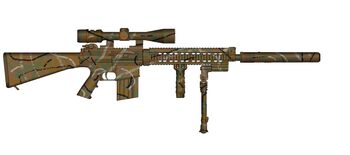 The K-748 DMR is a 7.62x51mm (designated marksman rifle). It was designed for use by MARSOC units such as MEU and Marine Force Recon. Heavily relying on the AR15 design the internals have been modified to a piston system to increase reliability. This particular veriants camoflauge scheme is based off woodland MARPAT.
Community content is available under
CC-BY-SA
unless otherwise noted.