The K-49 is a experimental submachine gun that fires .762x5.4mmR micro bullets, which are basically 7.62x54mmR but 1/10 the size enabling the pictured extended magazine to hold 100 bullets since it would typically hold 10 7.62x54mmR. Since it lacks stopping power it has a high rate of fire. Also since it fires such a small cartridge there is very little recoil and is very effective at suppressing untrained combatants.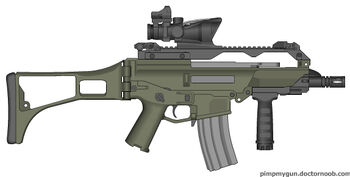 Designed by Korinth Weapon Systems International patent pending.
Community content is available under
CC-BY-SA
unless otherwise noted.