Well, with the majority of designs on here being presets, I thought I'd upload some of my recent work to show you how to go about this PMG thing. And I'll even give you some code to work from.
I must say, no editing programs were used. In any way. No Paint, No Photoshop, no Fireworks, just pure Pimp My Gun.
First, we have the Darkness Arms - Fallen Sword Mk.II. Made 80% out of shapes, with a few preset parts thrown in. Everything's shaded, everything's outlined.

Second is the Blood Angel. I've used a load of blending and shapework in with some simple creative parts useage to create a very unique rifle.
Third, the Deftek Groundspike. A lot of the base of this gun is about taking random parts, rotating them in new ways, and blending together with shapes to create a good looking rifle.

Fourth, the Kingdom Command 7.62x54R battle rifle - a mix of shapework and clean lines, as well as some crafty layering and a nice background - as with all the others, all PMG.
Finally, the Airbolt Mark Four. I've set this aside as it's a little different from my usual techniques, this one uses a lot of blending and shapework, but also a great amount of preset parts. Even rifle casings take part in this design.
I bet you're thinking 'How does this help me?'
CODE: http://pastebin.com/raw.php?i=kg5t5LXx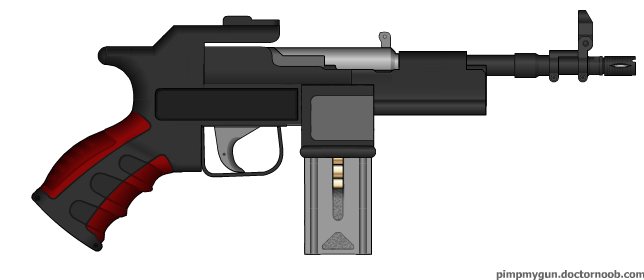 Community content is available under
CC-BY-SA
unless otherwise noted.