Halcyon Weapon Systems produces weapons for LE and the military. It was formed In 2018 and has been going strong ever since. Featured here are a few of their products.
CEP-10
A brand new pistol design that uses weight saving material to lighten the pistol and uses the long thought abandoned 10mm Cartridge.
IPDW-98
The IPDW uses the high powered .50 AE round with a weight of 8.151 pounds to manage the recoil and is useful for taking out targets with body armor and comes with a built in red dot sight.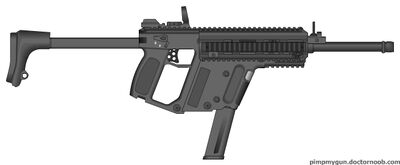 HEAR
HEAR (Heavily Enhanced Assault Rifle) is a brand new design incorporating odd features normally not present in assault rifles and combining them in a new design.

MK50 MOD 0 - MOD 1
An improvement to the aging M249, it uses more reliable components than the standard M249/MK46/MK48 platforms. It comes in either a folding MOD 0 OR A synthetic MOD 1


Community content is available under
CC-BY-SA
unless otherwise noted.