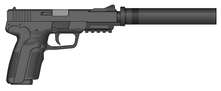 The Dronestrike LMP MK1 is a new machine pistol created by Dronestrike Arms. It was specifically created for a competition to replace the Beretta M9 pistol. As a result, it has many features not found on a civilian pistol.
SPECS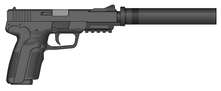 NAME: DRONESTRIKE LMP, MK1, MODEL 9x19MM.
FEATURES: Integral Silencer for Covert Stealth Operations (CSO), Glock 17 17-round magazine and slide, FN Five-Seven Frame, S&W 500 front sight.
USE: CSO and Close-Combat Warfare Operations, Sidearm.
AMMUNITION: 17-Round 9x19 Parabellum, box magazine.

NAME: DRONESTRIKE LMP, MODEL 9x19MM COVERT STEALTH OPERATION.
FEATURES: All of the above, including laser sighting and MAC10 sliding stock.
USE: CSO and Close-Combat Assault Pistol.
AMMUNITION: 17-Round 9x19 Parabellum, Box Magazine.
LMP
The LMP was designed specifically for the Beretta M9 Replacement Competition. The gun itself is based upon various parts and has less than 100 parts total, including the trigger mechanism and magazine slide mechanism. It is also ambidextrous in handling, meaning that it is a good gun for right- and left-handed individuals. LMP stands for 'Light machine Pistol' and will soon be available for the civilian market. .22 LR is a possibility for the civilian market LMP MK2, with only the CSO still using the 9x19 Parabellum and being used in military operations. This was the first 9x19 Parabellum pistol that Chris did, so he took various details from guns including the SIG S226, Ruger LCP, Glock 17, FN Five-Seven, and even the TEC-9.
BERETTA M9 REPLACEMENT CONTEST
The gun lost the competition but three other countries expressed interest in the pistol. As a result, it is used as a sidearm in the German, Russian, and Italian law enforcement, as well as civilian usage wherever handguns are legal. At this point the company is make three different designs for it, as well: a derringer based upon the pistol's semi-automatic recoil-operation, a .50 Express variant and a 5-round pocket pistol in .25 ACP. A Pellet Gun variant is also being considered for various reasons.
Also rumored is that a bolt-action variant, as well as a carbine version of this pistol, will be released. Details are pending as of this point in time.
Community content is available under
CC-BY-SA
unless otherwise noted.