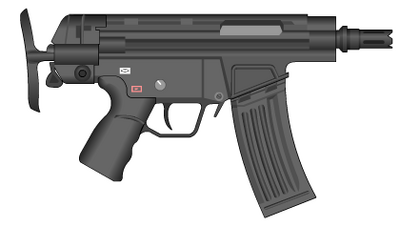 Dronestrike Heckler and Koch G53 Carbine
The Dronestrike HK G53 Carbine is a PDW that fires 9mm ammunition out of a 20-round magazine. It features select-fire between Safety, Semi-Automatic (single and burst fire) and full-automatic. This gun also features a sliding stock that further compacts the PDW. This gun is considered illegal in the United States, as the gun is considered a Short Barreled Rifle and an Assault Rifle.
HISTORY
The weapon was created as a deal between HK and Dronestrike. Since Dronestrike was known for its twelve gauge revolver, the 12GR, HK asked the owner to make their weapon, the G53, seem more tantalizing to concealled carriers. Of course, in doing so, the Dronestrike G53 was a market failure, as it was illegal in many countries. Also, its compact size made it the gun the criminals wanted for Christmas to rob their local bank. As a result, the gun was banned by various Gun Control Groups. Germany even went as far as to jailing whoever owned one under 'terroristic threats'.

RECEPTION
The gun itself was well-recieved, with certain gun testing magazines talking about the phenomenal feeling of the SBR. The gun control groups, however, didn't give it such a good reputation, but do they ever like guns? Anyways, the rifle was called for banning from the beginning.
VARIATIONS
There were two main variations sold; one was a US-import edition, with the barrel being extended a couple inches and it only being semi-automatic (without burst-fire or full-automatic) to conform to their 'Carbine' standards. The other was a smaller version, the Micro-G53. The Micro had no stock and the short barrel, as well as a smaller reciever and magazine. The Micro was built specifically for concealled-carry, even more so than the G53 Carbine itself. But, a large group of aftermarket tuners made nickel-plated, blued, and military-style G53 Carbines, readily available to owners. But, if you want a gun for defense and fun on the range, this would most likely be the gun for you.
Community content is available under
CC-BY-SA
unless otherwise noted.