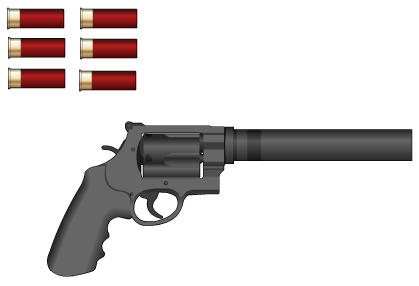 The 12GR is the first of a lineup of guns firing 12 Gauge shells manufactured by Dronestrike Arms. The only known place where this gun is illegal would be California because of their Short Barrel Shotgun ban also including pistols firing this type of ammunition.
History
The gun was conceived after the founder, Einar, decided that, besides from the Taurus Judge lineup, few small arms (pistols, revolvers, et cetera) could fire 12 gauge shells. So, he took his friend's Smith & Wesson and modified the chamber so that the 12 gauge shells could fit.
Versions
While Dronestrike is still starting out in the first few stages of development for other versions of the gun, they are considering many different guns.
DRONESTRIKE 38
The Dronestrike 38 is a smaller version of the 12GR which fires .38 Special.
DRONESTRIKE 44
The Dronestrike 44 is the same as above, except it will fire .44 Magnum.
DESERT STORM 12GP
The Desert Storm 12GP will be a 12-round handgun based on a Desert Eagle pistol. It will fire 12 Gauge shells, as well.
DRONESTRIKE 12GC
The 12GC will be based upon the M4 Carbine. It will fire 12 Gauge shells from a 30-round drum magazine.