BTRP



CIvilian Version

Type

Pistol

Place of orgin

United States

Manufacturer

DeimTec

Variants

BTRP,BSH

Cartridge

9x19 Parabellum

Action

Short recoil, locked breech, tilting barrel

Effective firing range

55 metres

Barrel length

127 mm
Baughman's Tactical Responce Pistol,was created by DeimTec employee Charles P. Baughman. As most of DeimTec's weapons,this was kept in secret until the last moment. It was made in 2013,two version we're made: BTRP and BSH (Baughman's Sporting Handgun). The first version was BSH,but after submiting it to board of directors,the gun was remade into a military handgun. It was discontinued as it was not selling and it had reliability issues. Stock parts can still be bought from the company.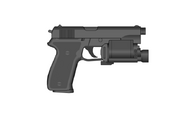 Community content is available under
CC-BY-SA
unless otherwise noted.