The Ray Gun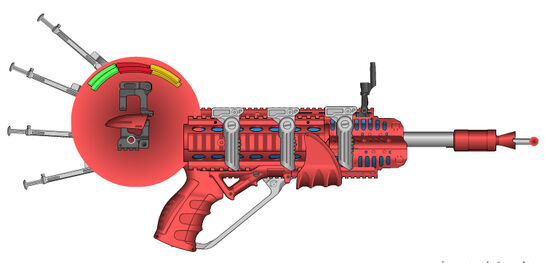 Designed and revamped by Treyarch, Ltd. In 2008, the Ray Gun is the first, popularly known, fictional weapon to ever have appreared in a video game, that being the Call of Duty Series. Living up to it's name, it fires pulses of Gyrophsysic Magnesium, which when mixed, creates a green burst of heat that incinerates almost anything. Techincally, the iron-sights are not iron. Instead, they form a +, usually Red, and sometimes Blue, in between the reticle circle holding station. It has a dial for adjusting settings such as heat, power, and distance, as well as color for a more decorative effect. Many believe the Ray Gun to be a fraud. Actually, it is more than real. Designed by Edward Richtofen of New Breslau, Germany in 1937, it is appropriately named after it's characteristics. The reticle + is formed from a mix of Arsenic and Orange Phosphorus.
As seen in....
The Ray Gun is featured in many Call of Duty: Zombies maps such as:
~Nacht der Untoten
~Shi No Numa
~Zombie Verruckt
~Der Riese
~Kino der Toten
~"FIVE"
~Ascension
~Dead Ops Arcade
~Call of the Dead
~Moon
~TranZit (Great Leap Forward)
~Mob of the Dead (Alcatraz Island)
~Buried (Resolution 1295)
~Origins (Excavation Site 64)
~Shadows of Evil
~The Giant
~Dead Ops Arcade 2
~Der Eisendrache
~Zetsubou Bo Shima
~Gorod Krovi
~Revalations
How to Make:
I used many parts when creating this. It should take about 30min. to complete, assuming you have all the proper material. For instance, it is only available on the Newest app: http://www.pimpmygun.doctornoob.com/app.php
Materials: Circle, F2000 Handguard, Silver M200 Bipod, Green, Yellow, and Red MP5 Mags, Front Iron Sights, Pistol Grip, Red Circle (2), Flash Hider, Thumdguard, Leaf Sight, 3 chrome bars (vertical), 7 Practice grenades for blue cold cells, Red triangle, G36 Bolt. That should do it. Just find the locations of each piece on the picture at the top.