The CFL45 (Clicker Front-Loading .45 ACP) is Clicker's entrance into the world of handguns, it has two variants, the standard and the Special Ops. It was made into response for the military's request to replace the aging Beretta M9. The CFL45 has since lost in the competition, but is in a civilian and possible law enforcement market now.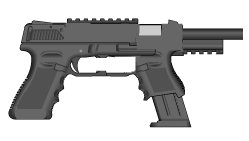 Development
The CFL45 was developed as request from the United States Military for a replacement of the Beretta M9 as seen above. Being Clicker's first pistol, they decided to make an eye-catching yet reliable pistol. They chose the short-recoil design that was tested reliably for years and years. It uses the Clicker Recoil Mechanism diverting the recoil downwards as used with the C128. Designed in two days, the weapon is currently ready for the civilian market.
Weapon Design
It uses a front-loading pistol design like the TEC-9 handgun (the weapon was never an SMG, as in its base form, was considered a semi-automatic handgun). Using the conventional short-recoil operation immortalized by John Browning, the pistol is easy to handle. It has a rather unique magazine, as the .45 ACP magazine double stacks with 9 on each stack.
The CFL45A1 retains the eye-catching look of the TEC-9, but with a more solid look, longer barrel, and a magazine that pokes out.
Weapon Information
Weight: 710 g (Standard Variant)

725 g (Spec Ops)
750 g (A1)

Length: 170 mm (Standard Variant)

185 mm (Spec Ops)
195 (A1)

Barrel Length: 140 mm (Standard Variant)

155 mm (Spec Ops)
165 mm (A1)

Cartridge: .45 ACP
Operation: Short Recoil, Semi-Auto
Muzzle Velocity: 550 m/s
Effective Range: 60 meters
Feed System: Double-Stack Magazine, 18 rounds
Sights: Glock-like sights
Attachments: Removable Piccatiny rails, threaded barrel, and suppressor
User(s): Civilian (currently)
Competition
The competition ended with a tie between the VM Aquila and the PPF MCAP for the first round. Clicker was eliminated from the competiton along with Dronestrike Arms, Valhalla Arms Company, and NS Arms Corporation. Then the PPF MCAP won by 2 vote difference between VM Aquila. Clicker later posted on their website to bid this message to PPF and others, "The competition is over for the replacement. It was fun making this weapon. Congratulations to PPF and the others. However, the CFL45 will still be marketed for civilian use, and/or law enforcement. Remember, whatever keeps us safe, keep it."
Community content is available under
CC-BY-SA
unless otherwise noted.