The BX-15 is a PDW (Personal Defense Weapon) designed by Clicker Defense shooting its own proprietary cartridge, the 5.7x35mm round. It is of bullpup design, with the magazine and action behind the trigger. The A1 model uses brass deflecting technology different from its predecessor. It's meant to pierce armor compactly. A price for one is $1500.
Current series is the A1.
BX-15 Mod 0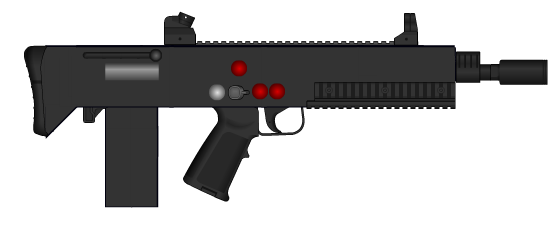 Summary
Designed to be compact, hard-hitting, high velocity, high penetration, this PDW is will get the job done. With the HK licensed sights, the weapon is suitable for aiming by many if not all. Having a flattop rail as standard, and a tri-rail on the bottom. Dispensing rounds very fast, it can devastate the target. It can pierce armor with very great performance. With the Clicker Recoil mechanism, and the stock that absorbs lots of recoil, it is very low.
Statistics
Name: BX-15A1 Mod 0
Weight: 2.4 kg (unloaded) 2.6 (loaded)
Length: 60 cm
Magazine Size: 32+1 Rounds
Caliber: 5.7x35mm Clicker
Muzzle Velocity: 820 m/s
Maximum Range: 850 meters
Optimal Range: 500 meters
Rate of Fire: 940 Rounds Per Minute
Fire Mode: Safe, Semi-Auto, Full-Auto (3-Position)
Overall
Accuracy: High
Recoil: Very Low
Damage: High
Rate of Fire: Fast
Mobility: High
Reload Speed: Dependent on skill, generally Moderate
Penetration: High (This is a PDW, right?)
BX-15 Mod 1

Summary
The BX-15 Mod 1 is basically a conversion of the bullpup BX-15 to a standard conventional layout. The gas tube is shorter and the BX-15 has a higher rate of fire than the standard weapon. Overall, it performs similarly to the standard weapon.
Statistics
Name: BX-15A1 Mod 1
Weight: 2.4 kg (unloaded) 2.6 (loaded)
Length: 81 cm
Magazine Size: 32+1 Rounds
Caliber: 5.7x35mm Clicker
Muzzle Velocity: 820 m/s
Maximum Range: 850 meters
Optimal Range: 500 meters
Rate of Fire: 1115 Rounds Per Minute
Fire Mode: Safe, Semi-Auto, Full-Auto (3-Position)
Overall
Accuracy: High
Recoil: Very Low
Damage: High
Rate of Fire: Fast
Mobility: High
Reload Speed: Dependent on skill, generally Fast
Penetration: High (This is a PDW, right?)
Gallery
<gallery> BX-15.jpg BX-15 Mod 1.jpg
</gallery