The BC-556 (Bullpup Carbine-556) is the first ever bullpup carbine/DMR made by Accurafire Manufacturing Company. It has six Picatinny Rails. It comes with Magpul MBUS Front and Rear sights. It comes with a free foregrip and VC-301 Compensator. It also has two DMR versions. It is currently competing against the CLBR Bullpup Rifle made by Rickard Firearms & Defense.
Features
Features of the BC-556 include:
-Compact Bullpup Design
-5 Picatinny Rails
-Many internal recoil reducing components, as in all Accurafire weapons, as well as a VC-301 Compensator and a foregrip to keep the recoil down.
-A partly cut-off HK Battlegrip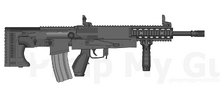 -Light Trigger Pull
-A moderate fire rate
-The Accurate MBUS Sights by Magpul
Specifications
Weight: 7 pounds
Length: 29.4 inches
Effective Range: 600m
Ammunition: 5.56x45mm NATO
Ammo Capacity: Comes with 30 round STANAG magazine. Can take any STANAG magazine as well as the Magpul PMAG Gen 3.
DMR Versions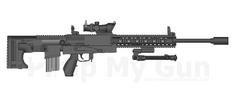 There are two DMR versions of the BC-556: The cleverly named BC-556 DMR, and the BC-762. They both come with an ACOG and a bipod, and can come with either a large flash hider or a VC-301 Compensator. The only difference between the BC-556 DMR and the BC-762 is that the BC-762 has a heavier barrel.