ARG-X Assault Rifle
The ARG-X Assault Rifle has the contract from GDI to its creator, the ARC-7 research labs, to keep making this for the GDI Medics, particularly for its functionality to insert a revival serum in the tip of the shot or attach a grenade launcher that fires revival grenades.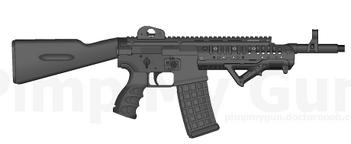 The weapon incorporates a stock version AFG (angled) grip on a rail mount, and uses the M249 SAW iron sights. As stated earlier, the 5.56 caliber bullets can carry a small amount of a red revival serum (Serum X2H3) to revive dead bodies perfectly, and repair and heal all their wounds. Alternatively, in place of the angled grip, an M203 rail-mounted grenade launcher can be put there. The grenades are either high explosive or revival grenades.The revival grenades' tip holds a generous amount of the revival serum. It can revive a maximum of twelve men at once.
Technical Stats

Name: Assault Rail Gun - Xtra Assault Rifle
Shortened Name: ARG-X AR
Muzzle Velocity: 5 Meters a Second
Rail Type: CASV - EL RIS
Attachments Available: Vertical foregrip, ACOG Red Chevron 6x48, XPS3 Holographic Sight, Basic Red Dot Sight, Stock Angled Foregrip, M203 Grenade Launcher (Rail-Mounted)
Used By: Remnants of the Global Defense Initiative
Used For: Reviving Dead Team Members, Personal Defense, Assault
Weight: 5 kg
Length: 2.6 ft
Barrel Length: 292 mm
Cartridge: 5.56
Operation: Gas-fed, fully automatic assault rifle
Rate of Fire: 480 Rounds a Minute
Effective Range: 50 Meters
Feed System: AUG 30-round Magazine
Sights: M249 SAW Iron Sights, CASV - EL Rail
Technical Specs End

Community content is available under
CC-BY-SA
unless otherwise noted.