AP-3B Mk. IV is out! Here.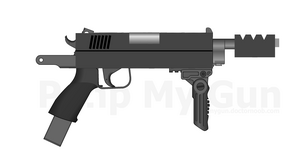 The AP-3B Mk. III is a machine pistol made by Accurafire Manufacturing Company. It was made to be everything better than the AP-3B Mk. II. It disposes of the side rails that the Mk. II has. It also has a new, smoother slide, and a more durable frame. It can be ordered with a foregrip, and it can als be ordered with a Picatinny rail that attaches to the slide. it participated in this competition but lost to the P2016 Merdeka by NS Arms.
Specs
Weight: 700g unloaded
Length: 11.5 inches w/o stock and with the compensator
Effective Range: around 55m
Price (US): $500 Military, $200 Civilian
Ammunition: 9mm Parabellum, .45 ACP, Accurafire .46 Deathbringer
Ammo Capacity: 15, 18, or 21 round magazines.
Fire modes: Semi-auto, 3 round burst
Variants
-P-SA (Pistol-Semi Auto): The civilian version. It only has safety and semi-automatic fire modes, and no stock.
-P-SAGL (Pistol-Semi Auto Gun Law): Follows strict gun laws in states that have them by:
1. Takes 5-10 round magazines only
2. Semi-auto
3. No stock
Gallery