The HSR (Heavy Support Rifle) is a weapon made by Accurafire Manufacturing Company, abbreviated AFMC. It was designed to be a rifle that could serve the role of a squad automatic weapon (SAW) or light machine gun. It comes with Troy Folding Sights and a VC-301 Compensator. An ACOG 4x32 can be ordered with it as well as a foregrip and a bipod.
Research/Testing
A total of 4 prototypes of the HSR were made. The first one, the (X)R13/1, had a magazine which basically combined 2 STANAG magazines, which resulted in a magazine so tall that if a bipod was equipped, it wouldn't be able to touch the ground, making it useless unless placed in a window. The last prototype, the (X)R13/4, would go on to become the HSR. The (X)R13/4 (as well as the HSR, which is no different from the [X]R13/4 except for the name) uses the double mag system of the MP40/2 (or the dual mags attachment for the MP40 in COD: WAW if your a gamer).
Features
Features of the HSR include:
-Many internal recoil reducing components, as in all Accurafire weapons, as well as a compensator and a bipod
-4 Picatinny Rails via a RAS with rails that extend along the upper reciever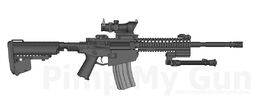 -Double magazine system as in the MP40/2.
-Accurate Troy Folding Sights
-Bipod and the ACOG 4x32 can be ordered with the HSR.
-Sturdy stock
Specifications
Weight: 9.8 pounds
Length: 40.5 inches (Stock Extended), 35.5 inches (Stock Retracted)
Effective Range: 700m
Price (U.S): $1300
Ammunition: 5.56x45mm NATO
Ammo Capacity: Two 30 round STANAG Magazines (60 rounds both loaded)