The ACT Firearms Division is a leading company when you talk about weapons. It's aim is to always have the most recent technology available and in order to achieve that, it has over 15 research centers all over the world. The parts producing factories use the best precision robots in the market and work constantly to give you the best firearms you will ever find.
ACT CEO
Arty
Guns and Prototypes:
Red-Black: Special operations
Pink-Turquoise: Made for fun
Black-Grey: Normal use
AWNO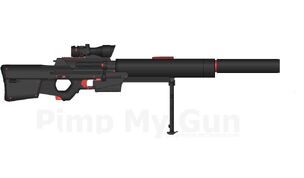 A .408 bolt-action sniper rifle with a 10 bullets box magazine.
It's very effective over 1000m, it has an integrated suppressor that covers the entire barrel, reducing the shot noise of the 90%. Used a lot by American and Russian in secret missions thanks to it's reliability.