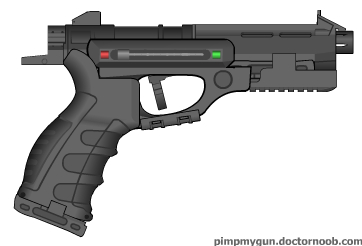 The AC-45 is a simple combat pistol designed specifically for short-range target acquisition and apprehension. It can be dismantled with ease and reconfigured to fire different rounds. Straight out of the factory, this weapon is chambered for .45 ACP rounds. It has a fire selector on the right side, but can still be accessed relatively easily for right handed users. It is a blowback operated pistol, but the recoil mechanism is internal, therefore there is no 'slide' and the chassis is just one piece. This is proven to reduce instances of jamming.
Because of this, there is little recoil. There are spring dampeners located above the pistol grip to reduce recoil from the blowback mechanism. Although there is a distinct lack of external customization (Rails on the bottom but no rails for optics), it is easy to clamp/fit rails on. The standard magazine holds 11 rounds.
The AC-45 is designed to be small and concelable but also light and wieldy. Because of the stainless steel construction, this pistol weighs no more than 2 lbs (907 grams).
Attachments
As of yet, there are only rails long enough to fit small-scale electonics like the XT-02 (Small torch designed to fit Glock 23's) or ring mounts for torches. However, there are plenty of options for internal upgrades such as longer barrels. There is no thread for a silencer. The front sight is foldable and the rear sight removable, leaving room for other sights that fit the same clamp.
History
An undisclosed arms manufacturer has taken up the design of AC-45 and began production in small numbers. Several were spotted in service with Kaizen Elite Safety Team, a Japanese security company.
Community content is available under
CC-BY-SA
unless otherwise noted.