The AA-08 (which stands for Avtomat Alexandrova - 2008) is a Russian assault rifle that was designed and manufactured by the Alexandrov Design Bureau. It is an assault rifle that serves as the spiritual successor to the AA-81 assault rifle and the most recent of the AA rifle series. It competes against the ONI Rogue and the ONI Hornet, both made by On Point International, a rival Russian firearms manufacturer, the VH-87/06 and VH-12, both made by Viktor Halitov Arms Co, and the NS Arms Lygophobia. In January 2019, the AA-08 was accepted into limited use by the Russian Armed Forces.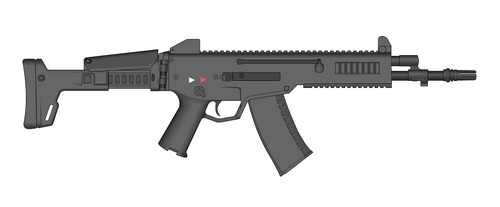 Facts:
Barrel is 13 or 17 inches long.
Chambered for the 5.45x39mm cartridge, and is fed via a 30-round magazine. It can also be chambered for 7.62x39mm, also being fed by a 30-round magazine by default.
Designed in 2008, produced since 2011.
Effective range is around 550 meters.
Gas operated.
Rate of fire: 800 RPM
Weighs 6.1 pounds (unloaded), 6.7 pounds (loaded).